Cisco (NASDAQ:CSCO) is one of those stocks that left a lot of investors broken hearts after the latest bull markets. The internet stock bubble hit Cisco shareholders particularly hard, as it was one of those stocks that had a P/E over 100 for quite a while. Like many technology stocks at that time, earnings didn't have to be that impressive as long as fools were buying and greater fools were buying at higher prices. Looking back at the growth during that time, which for revenue and net income was above 10% at the beginning of the bubble, it was a good business model indicator, but not enough to justify the crazy valuations to follow. The 2009 bear market hit CSCO shareholders as well, but the losses were not nearly as destructive as in the early 2000s. You can attribute this difference to the difference in valuations.
Nowadays, the stock is trading at much more reasonable valuations. Growth, while not as pronounced as the early days, is still fairly reasonable and is moving towards a consistent long-term trend. CSCO was a stock I really liked back in February 2016, so I recommended it in The Sather Research eLetter and added it to the Real Money Portfolio of the eLetter. Since then, the stock has returned about 48.1% including dividends. With a current 6-year streak of consecutively increasing the dividend and a growth rate of 24.7% over the last 3 years, the potential returns from dividends only add to the attractiveness of this stock – one that has been on a tear over the past couple of years. The dividend yield reached as high as 3.7% around the time I added the position, which combined with the recent dividend growth rate creates a very high potential yield on cost for the foreseeable future. The current yield of 3.47% may attract more yield seeking investors moving forward, hopefully pushing up the stock higher as others wish to participate in the party.
As far as CSCO's revenue stream goes, the company is fairly diversified. While the Americas remain CSCO's biggest revenue segment by location, the company does have a worldwide reach with 15% in Asia and 25% in Europe. Here's how the revenue breaks down:
Source: Cisco 2016 Annual Report
Out of the product categories, the Ethernet Switching Segment leads, contributing 30% to the company's top line. The IDC presents research on that industry, displayed in this chart.
You can see that CSCO holds a strong lead in market share, which is something I always like to see. As of the 2016 Q3, CSCO held 57% of the overall market share. Huawei was the next closest competitor for 2016 Q3 at $453 million, and HPE (NYSE:HPE) was the closest in 2016 Q1 at $531 million. Compared to CSCO, which has been able to earn at least $3 billion in each of the last 5 quarters, the other players are of small worry for the time being. It's always good to be the undisputed leader in your core business. From a quarterly YOY viewpoint, CSCO did lose some market share with declining earnings amongst the industry's small increase. However, such a development should't be of much concern in a small time period. Instead, it's something for investors to be aware of and monitor in the coming years.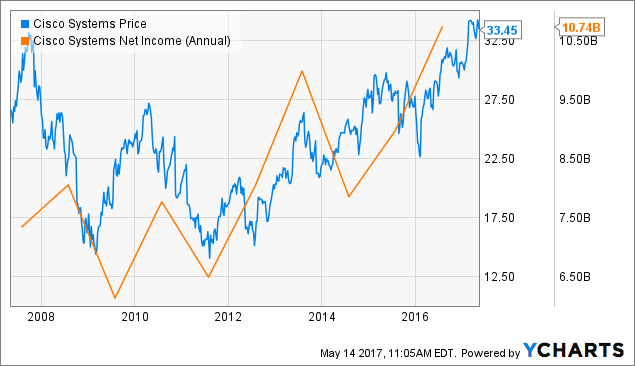 CSCO data by YCharts
Over the past 10 years, the stock's performance has followed earnings closely. While the chart looks like a bumpy roller coaster, the actual values show that earnings have been relatively consistent. In a word, earnings have been healthy.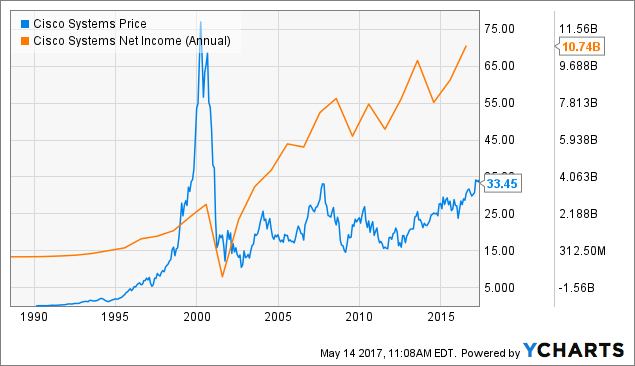 CSCO data by YCharts
Over the very long term, earnings are continuing on a nice trajectory. Of course, there's going to be some saturation and slowdown of growth as the company expands in size, but healthy growth providing investors with nice compounding interest can be reasonably expected here.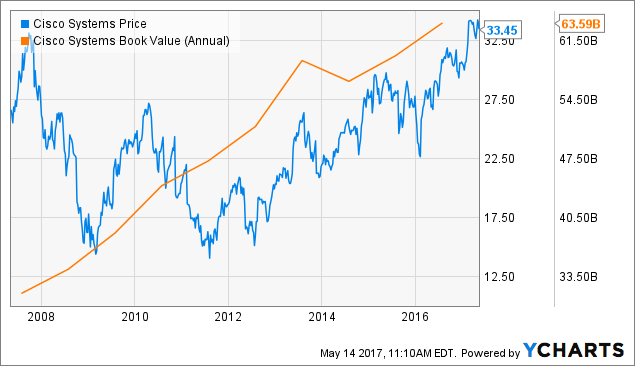 CSCO data by YCharts
The business is trending in the right direction when it comes to asset size as well. With an easy doubling over the last 10 years and a nice, straight linear chart, the stock is reinvesting in the business sufficiently as far as I'm concerned.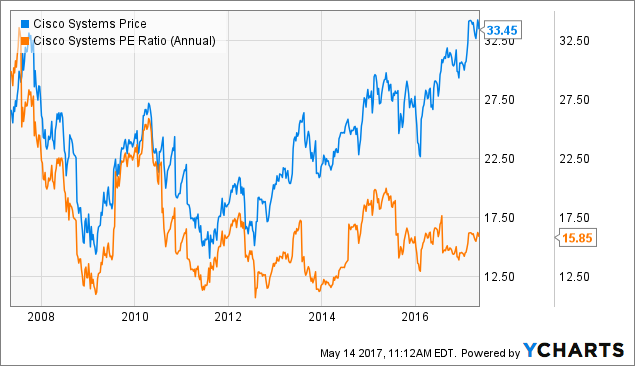 CSCO data by YCharts
Valuations have been very nice over the past several years, with the P/E flirting below 15 at some low points in the ticker price.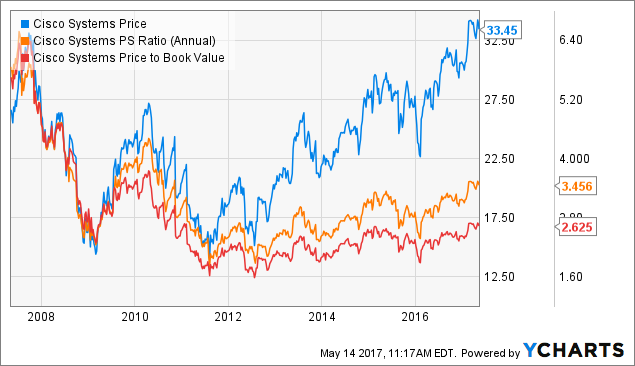 CSCO data by YCharts
Notice that with the P/S and P/B valuation chart, these price-based valuations break away from the stock price around the start of 2014. It's likely that this is indicating an undervaluation, as enough investors aren't picking up shares at the same rate that sales and net assets are growing. This could be an undercover value unlocking if earnings catch up to this growth, as is often the case with shareholder's equity growth.
Finally, total liabilities are reasonably low compared to shareholder's equity. The debt to equity calculation based on this is 0.91. This makes me confident in the company's ability to stay profitable long term. Earnings growth from 2015-2016 was 19.57%, and 14.36% from 2014-2015, with the debt to equity only growing from 0.86 in 2014 to 0.9 in 2015 and now 0.91. I love to see organic business growth mostly unaided by debt, which is exactly what we see here. With fantastic recent short-term results, and a long-term track record that looks to be on the right path, I see no reason why I won't continue holding this stock with my trailing stop. I may even consider converting this one into a dividend fortress, especially if they can continue the recent uptick in net income and dividend growth. At CSCO's current price, I'm not ready to add to my position yet. But the stock is very close to trading at a valuation I'd jump on again, and a small dip could be my chance to add more.
Disclosure: I am/we are long CSCO.
I wrote this article myself, and it expresses my own opinions. I am not receiving compensation for it (other than from Seeking Alpha). I have no business relationship with any company whose stock is mentioned in this article.
Source link